The Renaissance Boston Waterfront Hotel
Our conference venue
The host venue for ConveyUX is the Renaissance in the Seaport area of Boston.
Situated right in the heart of Boston, you're close to all the best the city has to offer.
Conference meeting rooms are within the complex.
Call  617-338-4111.
606 Congress Street, Boston, MA, 02110
More info about the Renaissance…
Conference and Hotel Package
Enjoy a savings of $200 with the bundle of a full conference pass and a two-night hotel stay.  Select that item from the Registration booking form.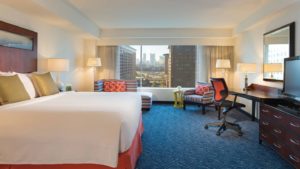 Making a reservation
Use the direct reservation link to get the best rate still available.
If you are spending some extra time in Boston, you can still enjoy the hotel at the same low rate if space is available.
Our Conference Schedule Policy
The activities for ConveyUX begin at 9:00am Thursday morning and end at 5:00pm Friday. We pride ourselves on providing hot topics and top speakers through to the final adjournment. We don't shortchange the latter portion of the event. If you are able to arrange to stay for the full conference, you will not be disappointed!
UP